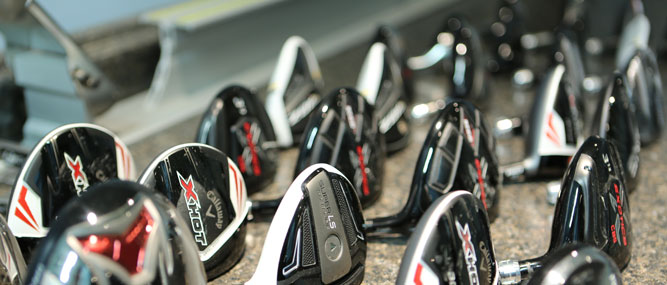 Trackman technology is the official choice of the PGA Tour and The R&A for swing and ball flight analysis. The TrackMan Pro outdoor unit is the industry's most accurate: measuring the golf swing and entire flight of the ball from impact to landing while displaying its 3D trajectory in real time. The first of its kind to measure the complete path of any shot, ranging from short pitches to 400-yard drives with an astonishing accuracy of 1 foot at 100 yards landing position.





No shaft is perfectly round or straight. Every shaft, even identical shafts will have variations in wall thicknesses, roundness, etc. Depending on the orientation of the shaft installed into a club head, these imperfections can cause offline bending and twisting throughout the swing and at impact. SST PURE is the only shaft alignment technology that uses state of the the art computer technology and sensors to analyze the structure of any shaft (steel or graphite) and identify it's most stable orientation. This stabile orientation will neutralize the irregularities and allow the shaft to perform as if it's perfectly straight and round. Independent robot testing has confirmed that PUREd shafts are indeed more accurate and stable than shafts that have not been PUREd.





Sam PuttLab is an analysis and training system based on an accurate ultrasound measurements. It analyzes the 28 most important parameters of your putting allowing you to understand your tendencies and identify the best strategy to develop improvements and the proper training methodologies. SAM PuttLab utilizes ultrasound sensory analysis and therefore is far more precise than any other similar system on the market.

NOVOGOLF Build Lab
Is where we build all of our clubs. From simple regrips to fully customized blueprinted clubs, we have the latest in club making technology to ensure that you have the perfect set of clubs. From hydraulic frequency analzyers, digital swing weight scales, loft lie machines to cnc engraving machines to personalize your clubs, we provide precision with style

NOVOGOLF Refinishing
Our own refinishing company to provide customized styling and personalization to any club head

NOVOGOLF Technology Center
The only facility in the country to provide a complete indoor to outdoor hitting experience on our private 300+ yard range in a climate controlled setting with the largest selection of OEM and JDM equipment and shafts.

NOVOGOLF Mobile
A 45-foot PGA Tour trailer fully equipped to provide a complete tour caliber fitting experience at your club.